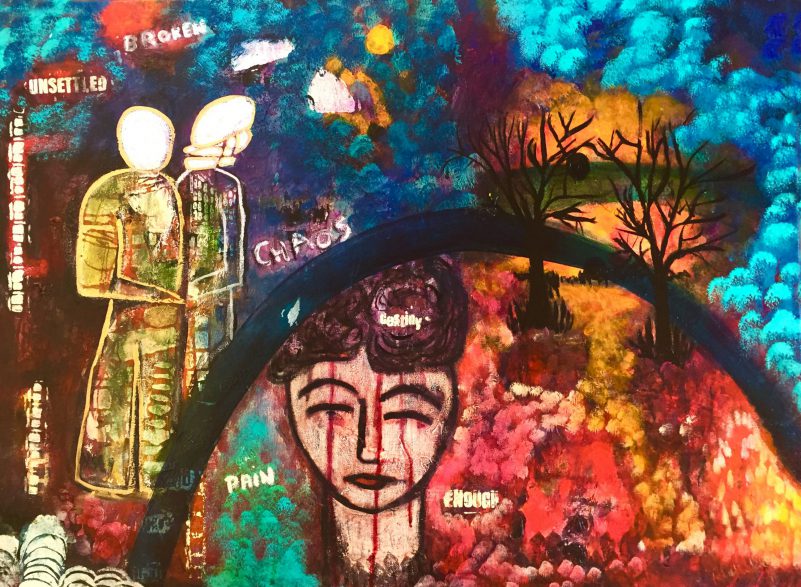 Dreaming of Another World
---
Although it might look inspired by the current Corona virus situation… I painted this painting over a period of 4-5 weeks, before the virus was in the news.
This painting had been undergoing many changes from a kind of huffy-fluffy landscapes to something much deeper. The little landscapes looked sweet, but I felt another reality, more fundamental needed to be expressed.
Looking back on it, it puzzles me… and to be honest, it scared me when I saw it afterwards posted on my social media. It shows exactly what is today – a sad and scared woman isolated by the bleu bow, het remembrance and longing for what life could be. Those 2 alien type of creatures : guards, officials, authorities… who knows.
And i painted this 2 weeks before the Corona nightmare came to Europe.
Technical details
Format : 60*80 cm (24*32 inch) • Substrate : canvas • Media : acrylic paint • oil pastel • Price : 450 €
Painter's comment
The various stages the painting went through. First the pointillistic approach, that became sweet landscapes. But something was missing. A link between both, a human, so the woman appeared. However, I felt it did not express what was meant to be said. I let it rest for a while and one evening, suddenly in a movement of anger I painted the big blue bow that threw the painting in a totally different direction. The 2 characters at the side initially where kind of rough stone blocks, till I noticed that they actually represented two soldier like figures.