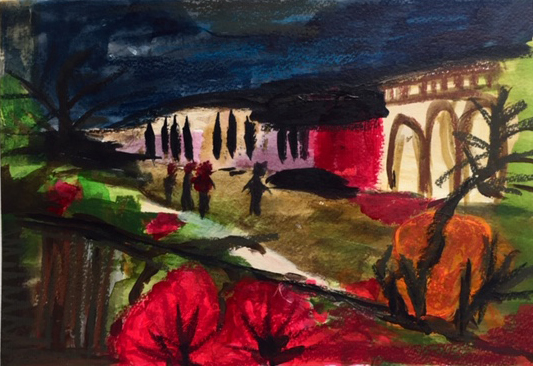 Fascination Street
---
A cityscape with sizzling red flowers
brighting up the night.
Technical details
Format : 21*29 cm (8*11 inch) • Substrate : 21*29 cm (8*11 inch) • Media : acrylic inks, oil pastel • Price : 125 €
Painter's comment
This painting is a "deconstruction" of a picture. That means that you don't look at the objects of the picture as such, but only at the color areas, the dark and light zones and you construct a painting based on the deconstructed elements, just in their pure rawness. This was the initial picture which color and shape values inspired me.
(based on an exercice from the Tracy Verdugo Abstract Mojo course)